When it comes to combining craftsmanship, aesthetics, and functionality, few things can rival the beauty of a handmade leather duffle bag. In a captivating video by 80Proof Goods, viewers are treated to a mesmerizing journey through the creation of an exquisite leather duffle bag, replete with remarkable details that make it an object of desire for both travel enthusiasts and leather aficionados.
Artistry in Leather Selection: Olive Green Minerva Italian Leather
At the heart of this creation lies the choice of material – a premium full-grain Italian leather in a luscious Olive Green Minerva hue. This carefully chosen leather not only exudes luxury but also promises durability that will stand the test of time. Its supple texture and rich color lay the foundation for an exceptional piece of art.
The Thread that Binds: Forest Green Stitching
The bag's construction is a testament to the art of leatherworking. Intricately stitched with Forest Green thread, the bag's seams not only hold it together but also add a striking contrast to the Olive Green leather. This is a detail that demonstrates the designer's keen eye for harmonious color coordination.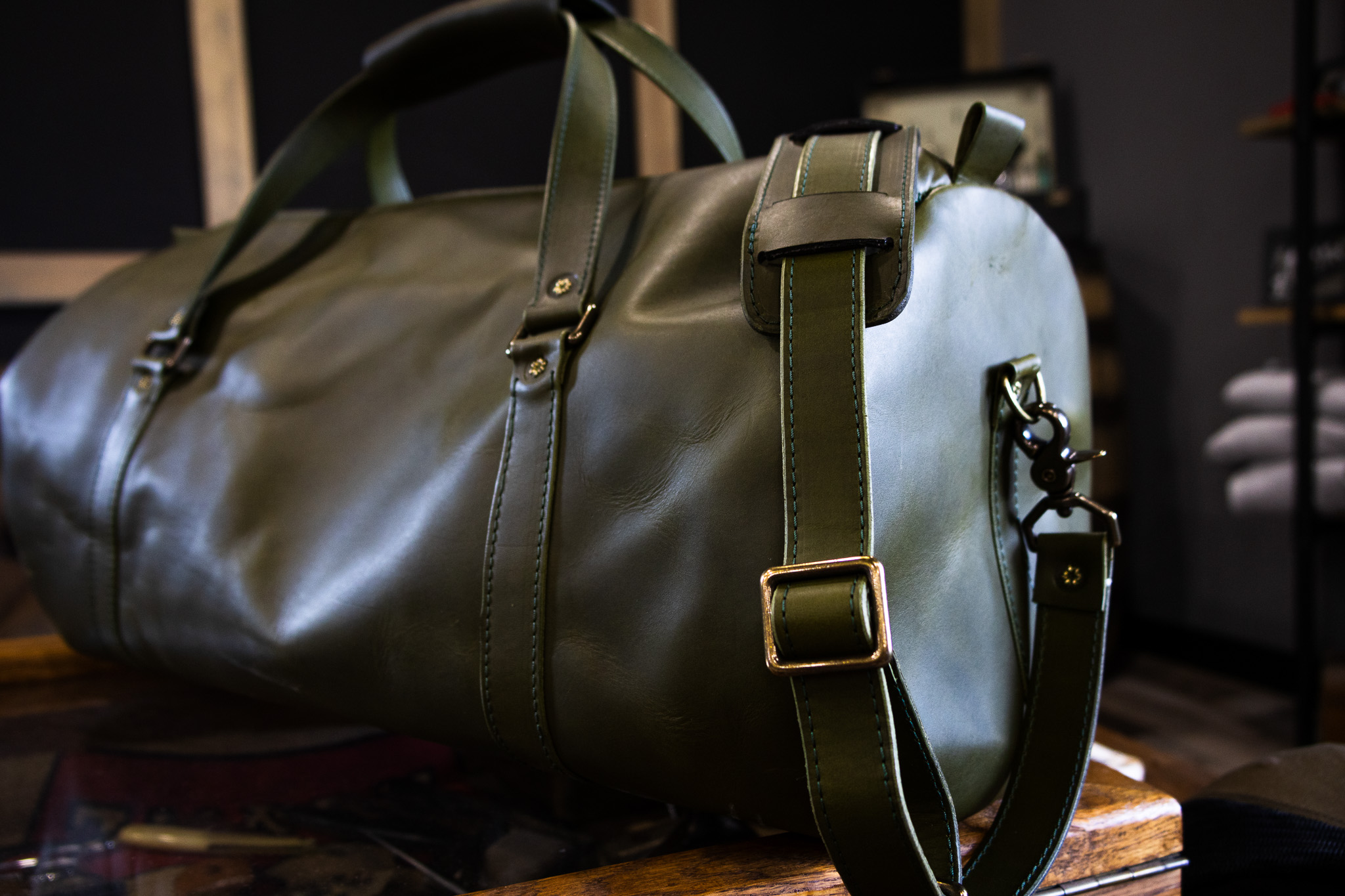 Hardware as a Statement: Antique Brass Accents
Every element of this bag has been thoughtfully curated, including the choice of hardware. Antique brass hardware, featuring single and double loop sliders, and d-rings, adds a touch of vintage elegance. The 2-way zipper, with its leather pulls, not only elevates the bag's aesthetics but also ensures a seamless user experience.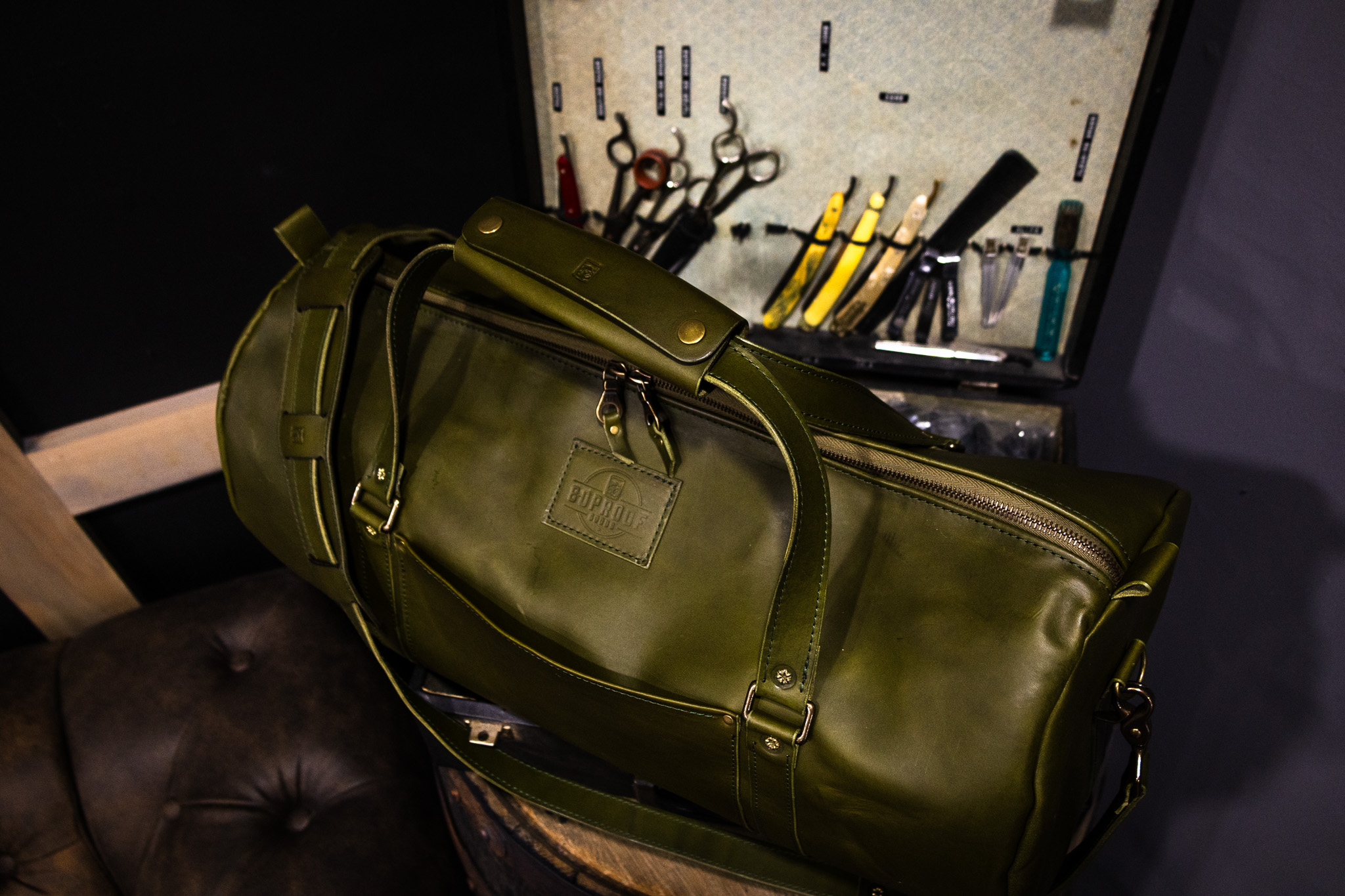 Form and Function: Designing for Convenience
One of the bag's standout features is its front convenience pocket. Designed to house essentials like a cell phone and passport, this pocket reflects an understanding of the modern traveler's needs. Moreover, the bag is designed to be carry-on compliant for all airlines, marrying style with practicality.
Attention to Detail: Interior and Straps
The interior of the bag is lined with dark olive green waxed canvas, a material known for its durability and water resistance. This lining not only protects the contents of the bag but also adds to its luxurious feel.
The bag's functionality is further enhanced by an adjustable and removable shoulder strap, complete with a stitched shoulder pad. This strap not only provides comfort during travel but also adds a touch of versatility. Additionally, full stitched double-sided handles with a handle strap ensure ease of carrying, all while maintaining the bag's aesthetic integrity.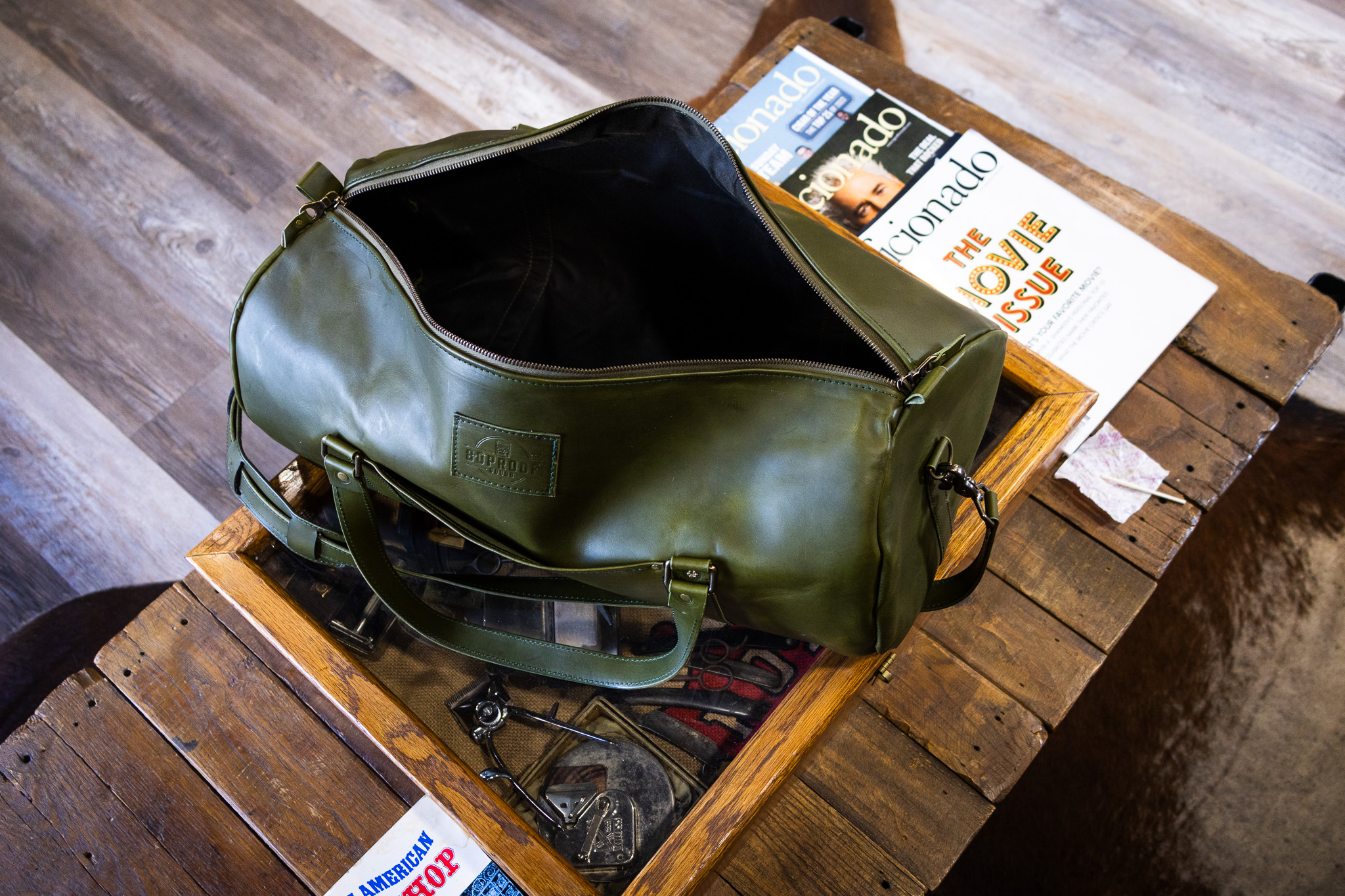 Branding with Distinction: The Embossed Logo
The 80Proof Goods logo takes center stage on a meticulously stitched patch. This branding is more than just a name; it's a mark of quality, a symbol of the dedication poured into every creation by the hands of skilled artisans. The inclusion of a whiskey logo maker's mark adds a playful yet sophisticated nod to the brand's identity.
In conclusion, the video by 80Proof Goods offers an intimate look into the craftsmanship that goes into creating a leather duffle bag that transcends mere luggage. The use of premium materials, attention to color coordination, and an unwavering commitment to functionality result in a piece of art that is not only visually stunning but also a practical companion for journeys near and far. This walkthrough encapsulates the essence of artisanal excellence, where each stitch, detail, and choice of material is a testament to the artisan of 80Proof Goods in the realm of leatherworking.